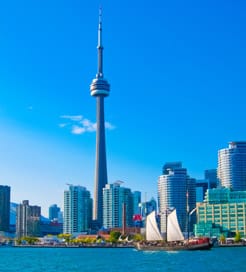 How to book ferries from Canada to Swindle Island
There are 3 ferry routes operating between Canada and Swindle Island offering you combined total of 3 sailings per week. BC Ferries operates 3 routes, Bella Bella to Klemtu runs 1 time per week, Port Hardy to Klemtu about 1 time weekly & Prince Rupert to Klemtu about 1 time weekly.

As the frequency and duration of crossings on some routes varies we would advise that you do a live search for crossings from Canada to Swindle Island to get the most up to date information.
Ferries from Canada to Swindle Island
About Canada:
Canada is the second largest country in the world by total area, bordering the United States to the south.

Not only is Canada blessed with one of the most breathtaking natural landscapes in the world, it brings a diverse culture and a variety of vibrant cities to the table as well.

It's a haven for any kind of traveller; you can spot orcas along the west coast, ski down Whistler Mountain, explore Colonial landmarks or sample some exquisite French cuisine in a buzzing metropolis.

With the British Columbian shoreline stretching over 25,000 km and the islands of Graham and Victoria found just off the coast, there are plenty of ferry departure points to choose from. There are numerous routes available too, both international and domestic, all operated by top quality ferry companies.