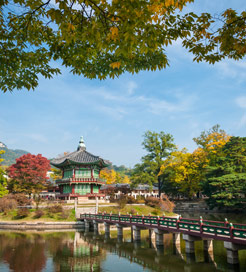 How to book ferries from South Korea to Japan
There are numerous ferry crossings operating from South Korea to Japan. Ferries currently connect 2 ports in South Korea with 5 ports in Japan.

There are a combined number of 46 ferry crossings each week across a selection of 5 Ferry Routes which are operated by 5 ferry companies including Panstar Cruise, Camellia Line, JR Kyushu Beetle Jet Ferry, DBS Cruise Ferry & Pukwan Ferry with the shortest crossing taking around 1 hour 10 minutes (Busan to Tsushima (Hitakatsu)).

This is a general summary of the services on offer between South Korea and Japan, for live information select from our Fare Search.
Ferries from South Korea to Japan
About South Korea:
South Korea forms the southern part of the Korean Peninsula in East Asia, with China to the west and Japan to the east.

With a history dating back to 70,000 BC embedded into this small country's cultural heritage, South Korea offers numerous fascinating historical landmarks including 12 UNESCO World Heritage Sites. It has a stunning landscape, too comprising huge mountains, gorgeous countryside, picturesque rice fields and clusters of remote islands found just offshore.

Seoul, the energetic capital is a bustling metropolis filled with everything from temples to high-end bars and shops featuring the world's latest technology. Food contributes significantly to the character of this city as well; you can enjoy exquisite meals either on a street corner or inside a neo-Korean upmarket restaurant, there's an endless choice.

South Korea has a few ports offering routes to a wide range of destinations. For international ferry routes, there are a number of sailings across the Sea of Japan to choose from, whilst the domestic crossings go to the islands just off the south coast.