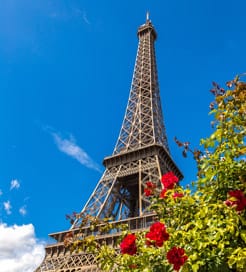 How to book ferries from France to Algeria
There are 4 ferry routes operating between France and Algeria offering you combined total of 9 sailings per week. Corsica Linea operates 2 routes, Marseille to Bejaia runs 1 time per week & Marseille to Algiers about 2 times weekly. Algerie Ferries operates 4 routes, Marseille to Bejaia runs 1 time per week, Marseille to Oran about 1 time weekly, Marseille to Algiers about 3 times weekly & Marseille to Skikda about 1 time weekly.

As the frequency and duration of crossings on some routes varies we would advise that you do a live search for crossings from France to Algeria to get the most up to date information.
Ferries from France to Algeria
About France:
France has been one of the world's most popular tourist destinations for many years and is one of the most diverse countries in the world.

With a variety of landscapes, its charming people and the richness of its culture, France really is an ideal destination for the vacationer. Paris with its iconic monuments and Europe's most popular theme park and also the French Riviera in the south east get the headlines, but there is so much more to see and do.

Whether you're up for an adventure packed getaway, a spa break, relaxing on a beach, castle hopping, shopping or simply people watching, you can do it all in France. No matter how many times you visit, there is always something new to discover.

With its central position in Western Europe, France is the perfect gateway by ferry to the surrounding countries and islands of the Mediterranean and the English Channel. With numerous ferry companies operating crossings to and from France, destinations include the UK, Ireland, the Channel Islands, Corsica, Sardinia and North Africa.
About Algeria:
With the longest borders on the continent and a 1,644 kilometre coastline facing the Mediterranean Sea, Algeria is one of Africa's greatest gems.

The country is best known, however, for its magnificent Sahara region, with over four-fifths of its 2,381,741 square-kilometre landmass draped in desert. Also, characteristic of most North African nations, Algeria is filled with ancient ruins dating all the way back to Roman and Byzantine eras, the most famous being the town of Timgad, close to Batna.

Beautiful cities come in abundance, too. The capital, Algiers is defined by French colonial buildings, Annaba boasts breath-taking basilicas next to turquoise waters and, as the oldest city in the county, Constantine offers historical wonders around every corner.

With several ports along the Mediterranean coast, Algeria and southern Europe are well linked by ferry. Countries like Spain, France and Italy all offer regular crossings, operated by a wide selection of ferry companies.