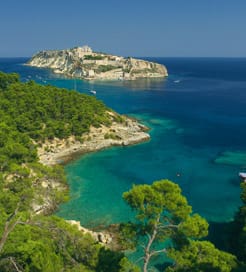 How to book ferries from Tremiti Islands to Italy
There are 4 ferry routes operating between Tremiti Islands and Italy offering you combined total of 64 sailings per week. Tirrenia operates 1 route, San Domino (Tremiti) to Termoli which runs 10 times weekly. NLG operates 2 routes, San Domino (Tremiti) to Termoli runs 3 times per day & San Nicola (Tremiti) to Vieste about 7 times weekly. Gruppo Armatori Garganici operates 4 routes, San Domino (Tremiti) to Termoli runs 5 times per week, San Nicola (Tremiti) to Vieste about 7 times weekly, San Nicola (Tremiti) to Peschici about 7 times weekly & San Nicola (Tremiti) to Rodi Garganico about 7 times weekly.

As the frequency and duration of crossings on some routes varies we would advise that you do a live search for crossings from Tremiti Islands to Italy to get the most up to date information.
Ferries from Tremiti Islands to Italy
About Tremiti Islands:
The Tremiti Islands, or Isole Tremiti, are an Italian archipelago in the Adriatic Sea, north of the Gargano Peninsula.

The archipelago, so named for its history of seismic activity, comprises 4 islands called San Nicola, San Domino, Capraia and Cretacio, known for their crystalline waters and idyllic coves along the coast.

Used as a penal colony in the 18th Century and by Mussolini for the internment of political opposition, the Tremiti Islands are in fact, today, part of a marine reserve offering some excellent diving spots of varying difficulties.

The hilly terrain is blanketed by lush pine forest descending into craggy cliffs, making these islands ideal for hiking and long treks, too.

The Isole Tremiti are popular holiday destinations, particularly during the summer months, so there are numerous sailings provided back to the mainland. The ferry departs from San Domino, arriving in the town of Termoli on the east coast of Italy.
About Italy:
Italy is a boot-shaped peninsula situated in the Mediterranean Sea at the bottom of Western Europe, with the Tyrrhenian Sea to the West, Ionian Sea to the South and Adriatic Sea to the East.

Italy is the fifth most visited country in the world and contains more World Heritage Sites than any other country. Although Rome, Milan, Venice and Florence are the top tourist destinations in Italy, the country's rich collections of art, culture and literature from many different periods and regions make it impossible to judge on where the most interesting location is.

With around four thousand miles of coastline, with countless gulfs, inlets, and long sandy beaches, Italy is truly adapted to the vacation lovers every need. Coastal cities with their sea resorts and awesome beaches are easily reachable by car with a variety of ferries and vessels large and small ready to sail you there.