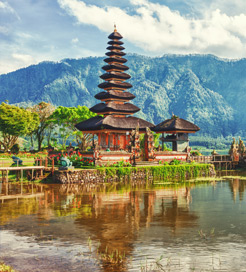 How to book ferries from Bali to Gili Islands
There are numerous ferry crossings operating from Bali to Gili Islands. Ferries currently connect 4 ports in Bali with 4 ports in Gili Islands.

There are a combined number of 30 ferry crossings each day across a selection of 10 Ferry Routes which are operated by 9 ferry companies including Bluewater Express, FreeBird Express, Marlin Fast Boat, Scoot Fast Cruises, Gili Getaway, Gili Gili Fast Boat, Bali Eka Jaya, Golden Queen Fast Boat & Arjuna Fast Cruise with the shortest crossing taking around 50 minutes (Amed to Gili Trawangan).

This is a general summary of the services on offer between Bali and Gili Islands, for live information select from our Fare Search.
Ferries from Bali to Gili Islands
About Bali:
Bali nestles between Java to the west and Lombok to the east in the Lesser Sunda Islands, Indonesia.

A small island with an estimated 10,000 temples and a vibrant arts culture, Bali has much more to offer than just picturesque beaches and excellent surf. Aside from its natural beauty, the happy-go-lucky Balinese way of life makes it hard to leave, too.

Kuta in the south boasts a superb nightlife, Ubud is characterised by stunning rice fields, while the heart of the island is dominated by dramatic volcanoes and hillside temples and shrines, so there's plenty to see on this incredible island.

Travelling by ferry is a convenient way to explore Indonesia's beautiful islands and Bali is a great departure point for doing so, with a few ports on along the east coast offering frequent routes to the nearby island of Lombok and to the Gili Islands.