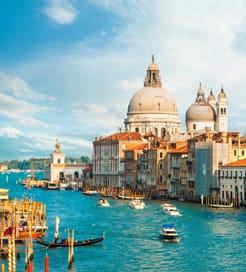 How to book ferries from Italy to Croatia
There is no shortage of options to choose from when it comes to selecting a ferry from Italy to Croatia. There are 4 ferry companies with a combined offering of 12 Ferry Routes connecting Ancona to Split, Bari to Dubrovnik, Ancona to Split, Zadar & Stari Grad, Venice to Pula, Porec & Rovinj, Cesenatico to Rovinj, Mali Losinj & Novalja, Pesaro to Mali Losinj & Novalja & Cesenatico to Rovinj, Mali Losinj & Novalja.

The fastest route between Italy and Croatia is Venice to Rovinj with a crossing duration of around 3 hours. With so many routes on offer we make it simple by comparing all similar routes in one search so you can quickly find what you are looking for.
Ferries from Italy to Croatia
About Italy:
Italy is home to the greatest number of UNESCO World Heritage Sites in the world. Together with Greece, it is known as the birthplace of Western culture.

Full of high art and monuments, almost every small village in Italy offers a few interesting locations. From the Roman ruins, Byzantine cities and Renaissance masterpieces to cobblestone streets, beautiful churches and wide variety of stunning beaches, Italy is a place that provides rare experiences that can never be overrated.

Italy is the ideal departure country for those travelling by ferry with numerous amazing destinations, many of them domestic on offer. With so many miles of coastline and famous islands to choose from, the list of destinations is truly unrivalled. In terms of international travel, Italy is connected to almost all of the countries in the Adriatic Sea as well as featuring numerous links to Greece, Tunisia and Spain.

The short island crossings are usually made with small passenger vessels while the longer international journeys are operated by luxurious cruise ferries.
About Croatia:
Den populære destination Kroatien ligger i det sydøstlige Europa, over Adriaterhavet fra Italien.

Landet har varme somre, milde vintre, perfekte strande, idylliske øer og smukke byer, så det er let at se, hvorfor antallet af besøgende til Kroatien stiger hvert år.

Kroatien og landets øer kan nemt nås med færge. Der er flere færgeselskaber og færgeruter, som passer til de fleste geografiske behov.

Hvis man rejse via det nordlige Italien og uden et køretøj, er der sæsonbestemte hurtig katamaran overfarter fra Venedig til en lang række destination på kysten af Istrien.

Hvis man rejser med køretøj eller en destination længere sydpå, skal man sejle fra Ancona, Pescara eller Bari. Færgeoverfarter herfra er regelmæssige og drives af moderne færger, hvilket gør turen afslappende og behagelig.