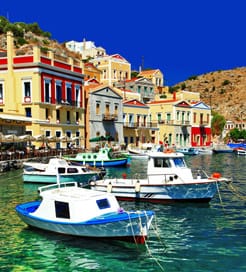 How to book ferries from Greece to Crete
There is no shortage of options to choose from when it comes to selecting a ferry from Greece to Crete. There are 5 ferry companies with a combined offering of 32 Ferry Routes connecting Piraeus to Heraklion, Milos to Heraklion & Sitia, Mykonos to Heraklion & Rethymno, Paros to Heraklion & Rethymno, Ios to Heraklion, Piraeus to Heraklion, Chania & Sitia, Karpathos to Heraklion & Sitia, Rhodes to Heraklion & Sitia, Kasos to Heraklion & Sitia, Milos to Heraklion & Sitia & Heraklion to Sitia.

The fastest route between Greece and Crete is Ios to Heraklion with a crossing duration of around 2 hours 45 minutes. With so many routes on offer we make it simple by comparing all similar routes in one search so you can quickly find what you are looking for.
Ferries from Greece to Crete
About Greece:
Greece is a country in Southern Europe with the 11th longest coastline in the world, sharing borders with Albania, Macedonia, Bulgaria and Turkey, and with islands in the Aegean, Ionian and Mediterranean Seas.

As one of the world's most popular tourist destinations, the country's fabulous beaches, whitewashed homes, historical sites and favorable climate attract huge numbers of visitors to its islands year round, though the majority arrive between April and October.

Whether you arrive on the mainland, by sea or by air, the majority of islands can only be reached by ferry. With the number of services on offer, as you may expect, Greek ferries are of a high standard and most ferry companies feature a modern and luxurious fleet. All Greek islands are linked to the mainland, some directly, some indirectly and island-hopping is a great experience, not to be missed.

Due to being a gateway to the islands, the Greek mainland is well connected to Italy across the Adriatic Sea too.
About Crete:
Crete is the largest and most populous island in Greece, situated in the Mediterranean Sea, slightly southeast of the mainland

Known for its varied landscapes comprising fertile valleys, stunning beaches and the famous White Mountains found alongside idyllic harbours and sleepy villages, Crete has beautiful backdrops around every corner.

Numerous time-honoured traditions remain fundamental to Cretan culture, including Easter feasts, playing stringed instruments called 'lyra' and performing spectacular local dances. Some Greeks even say Crete could be its own country due to its diverse terrain and the unique way of life.

There are many domestic ferry routes departing the mainland and surrounding archipelagos in the Aegean Sea, arriving at the five Cretan ports on the north coast, including the capital, Heraklion. These sailings have varying journey times and are run by multiple operators, so there's ample choice when it comes to reaching Crete by ferry.