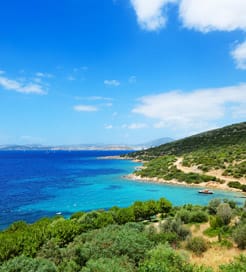 Compare ferries from Turkey to Cyprus
There are 3 ferry routes operating between Turkey and Cyprus offering you combined total of 8 sailings per week. Akgunler Denizcilik operates 3 routes, Tasucu to Kyrenia runs 3 times per day, Mersin to Kyrenia runs 2 times per day, & Mersin to Famagusta (Magusa) which runs 3 times daily.

As the frequency and duration of crossings on some routes varies we would advise that you do a live search for crossings from Turkey to Cyprus to get the most up to date information.
Ferries from Turkey to Cyprus
About Turkey:
Turkey is a country bordering both Southeast Europe and Western Asia, with coastlines facing the Black Sea to the north, Mediterranean to the south and the Aegean to the west.

Given its location between the two continents, Turkey has long been admired for its diverse cultural heritage, helping it become one of the most visited countries in the world. Examples of the country's exciting history are commonplace, most notably in the majestic mosques of Istanbul and the captivating ruins of Ephesus.

Its natural scenery varies enormously, too, from sandy beaches on the west coast to massive mountains in the east, offering a wide range of outdoor activities if you want to escape the bustling bazaars in the cities.

Turkey has a number of ports along its coast and, due to the amount of islands in the Aegean and Mediterranean Seas, it offers numerous ferry crossings to a wide range of international destinations, as well as domestic routes from Istanbul across the Sea of Marmara.