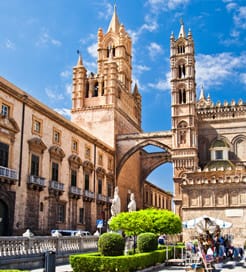 Compare ferries from Sicily to Aeolian Islands
There is no shortage of options to choose from when it comes to selecting a ferry from Sicily to Aeolian Islands. There are 2 ferry companies with a combined offering of 23 ferry routes connecting Palermo to Panarea, Vulcano, Lipari, Salina, Stromboli, Rinella, Alicudi & Filicudi, Milazzo to Stromboli, Rinella, Vulcano, Lipari, Salina, Alicudi, Panarea, Filicudi & Ginostra (Stromboli) & Messina to Lipari, Rinella, Salina, Vulcano, Panarea & Stromboli.

The fastest route between Sicily and Aeolian Islands is Vulcano with a crossing duration of around 0 hour 40 minute. With so many routes on offer we make it simple by comparing all similar routes in one search so you can quickly find what you are looking for.
Sicily Aeolian Islands Ferry Map
Ferries from Sicily to Aeolian Islands
About Sicily:
Sicily can be found to the south of Italy and is the largest island in the Mediterranean Sea, separated from the mainland by the narrow Strait of Messina.

Situated at the meeting point between East and West, Africa and Europe, Sicily is truly at the crossroads of Mediterranean culture and offers much to see, to taste, and to do. With a varied landscape of glistening seas and restless mountains, the scenery creates a dramatic and lasting impression on those who visit.

With a host of natural wonders and long warm seasons, Sicily is an attractive year round destination for explorers and holidaymakers alike.

Sicily is a hub for ferry connections with ferry services operated by some of Europe's biggest ferry companies travelling to and from most of the surrounding islands, ports on the mainland, Malta and North Africa via Tunisia.
About Aeolian Islands:
The Unesco-protected Aeolian Islands are a volcanic archipelago in the Tyrrhenian Sea, off the northern coast of Sicily consisting of a number of islands and some small islets.

The islands are made of Lipari (the largest and most populous), Filicudi (small westerly Island with few amenities), Alicudi (the second smallest of inhabited islands and the most remote), Salina (one of the larger islands and the greenest and most fertile of the group), Vulcano (the southernmost island, famous for its mud baths), Stromboli (to the northwest of the group and home to one of the most active volcanoes in Europe), Panarea (hugely popular in the summer) and the uninhabited Basiluzzo.

The Aeolian Islands boast extraordinary natural beauty and with their Mediterranean climate attract hundreds of thousands of visitors annually.

By nature of their geography and size, ferry transportation provides the only permanent mode of transportation to and around the islands. There are many inter-island connections available as well as to/from Sicily and mainland Italy, with increased ferry services operating during the summer season.