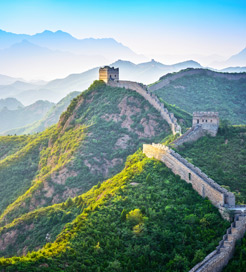 How to book ferries from China to Macau
There is currently just the 1 ferry route running between China and Macau operated by 2 ferry companies – TurboJet & TurboJet. The Shenzhen (Shekou) to Macau (Outer Harbour) ferry crossing operates weekly with a scheduled sailing duration from about 1 hour.

Whilst we've taken great care to ensure the information on this page is correct, as the frequency and duration of crossings on all routes can vary from time to time we'd advise that you get a live quote for current availability on this China Macau crossing between Shenzhen (Shekou) and Macau (Outer Harbour).
Ferries from China to Macau
About China:
China is the world's most populous country situated in East Asia, with an enormous eastern coastline facing the Yellow, East China and South China Seas.

As one of the most visited countries in the world, China has absolutely everything you need for a fantastic holiday. The largest city, Shanghai, with its innovative skyline, adds a splash of modernity to a nation rich in history, whilst the world-renowned cuisine can be enjoyed in every corner of the land.

Aside from the abundance of fascinating temples and ancient cities, China boasts a beautiful and diverse natural landscape comprising huge valleys, sandy beaches and spectacular rice fields. It is also the third most biodiverse country in the world, with almost thirty-five thousand animal and plant species found so far.

China has a number of well-developed ports in many cities offering frequent, high-speed crossings to popular tourist destinations in East Asia, including routes to Japan from Shanghai.